Their Going To Need A Bigger Tank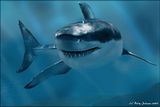 So you all know I am a huge, huge, Great White Shark fanatic. Ever since the movie "Jaws" came out, I've been obsessed with Great Whites. Yes, those beast of the sea that strikes terror in the hearts of men are one of my favorite creatures on earth.
One of my all time fantasies is to be in a shark cage with a great white swimming around the cage in the open water. I may never fulfill this fantasy, but it's one of my seven things I want to do in life.
Back in December of 2004 when I was really sick, I received free passes to the Monterey Bay Aquarium where they had the first surviving baby great white in captivity in one of their tanks. Unfortunately I had to give those passes away due to being so ill. Matthew knew I was upset about not seeing her that he took me down in February to see my first live great white shark. One week later they released her so it was meant to be that I saw her.

Well a night or two ago I herd on the news, that the Monterey Bay Aquarium has another baby great white on display. This time it's a male baby great white. I asked Jules today if she would like to go to the aquarium in the next few weeks before they release this great white shark . She said she would see what she could do for us to go to the aquarium to see this wonderful beast.
If you like to view this magnificent wonder of the sea, you can click here for their
live view cam
.